Okay everyone here I am with another update, Sorry it took so long to bring you another update just been really busy. So to let everyone know I am getting close to start up on this thing, just need to go pick up my T56 in Houston, then head to my Fab guy to make my custom oval exhaust and then head to Stew's house for final wiring. I would say a good 4k will finish the project. So hopefully very soon.
So lets kick this off with a beer shall we. Beer of choice is Circus Boy "The Hefeweizen" by Magic Hat. Now if you know me by now, you would know I love Hefeweizen beers, so this is no different. A very good beer.
First up to bat were my new sway bars. Motordyne hooked it up with a nice set of sway bars I must say. The quality of these things are top notch.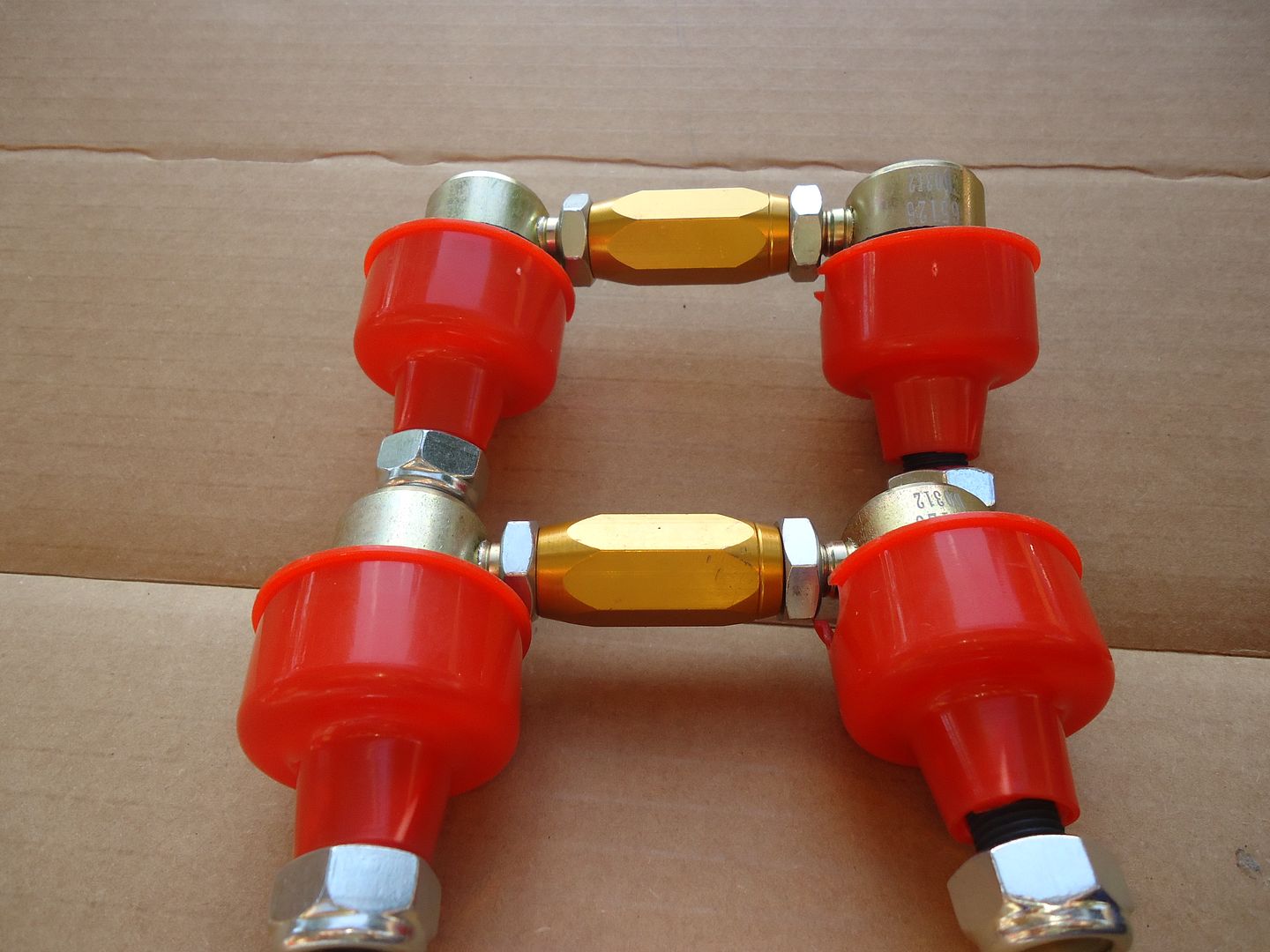 I paired the sway bars with some Whiteline endlinks.. Love the gold…lol
Fit is money, have to test my -20 AN fitting just to make sure it fits. I will post pic later when I do.
Good clearance..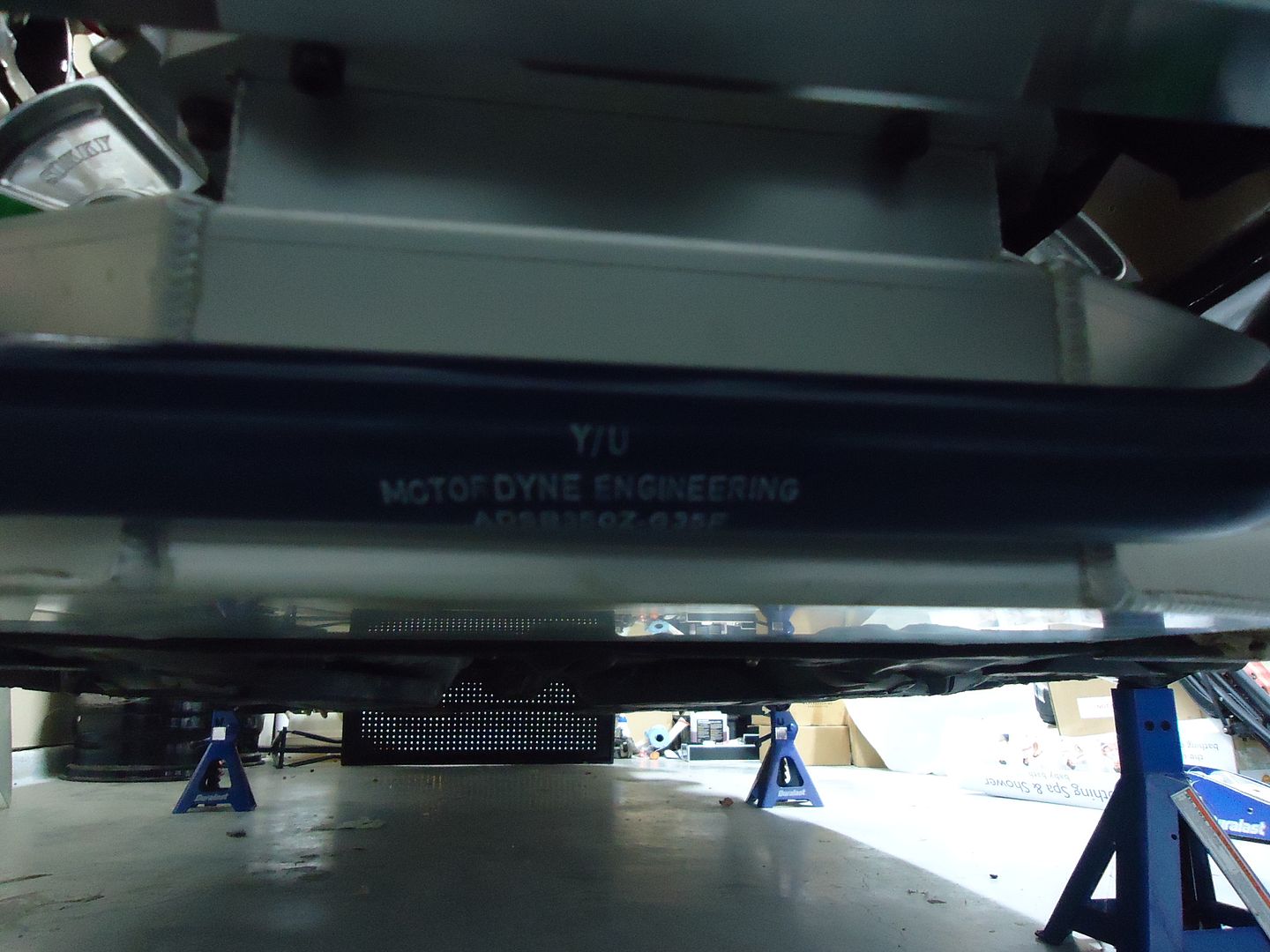 Stamp of approval right here..
I think these Whiteline endlinks just look so fresh.. I did how ever have to drill the holes out some to fit them, probably due to powder coating but they fit like a glove now.
I thought I took a pic of the rear to but I guess I did not, I will have to post that up later as well.
Now I don't think I have posted up the Sikky Shifter yet, so here it is.
The quality on this thing is flawless in my opinion. I also love the fact that they made the thread work with Nissan 350z pattern.
The only down fall to this shifter is that they made it to work with all GTO T56 transmissions. Which causes some problems for guys running Camaro T56s. It tends to pop out of gear due to the difference in shifter location on the transmission.. To solve this problem you will have to purchase the new guide plate from a GTO and also mod the mounting points to make it work with your application. At the moment they are working on the solution for this and I will be sure to update my blog when they do.
Other then that I think this thing looks sick…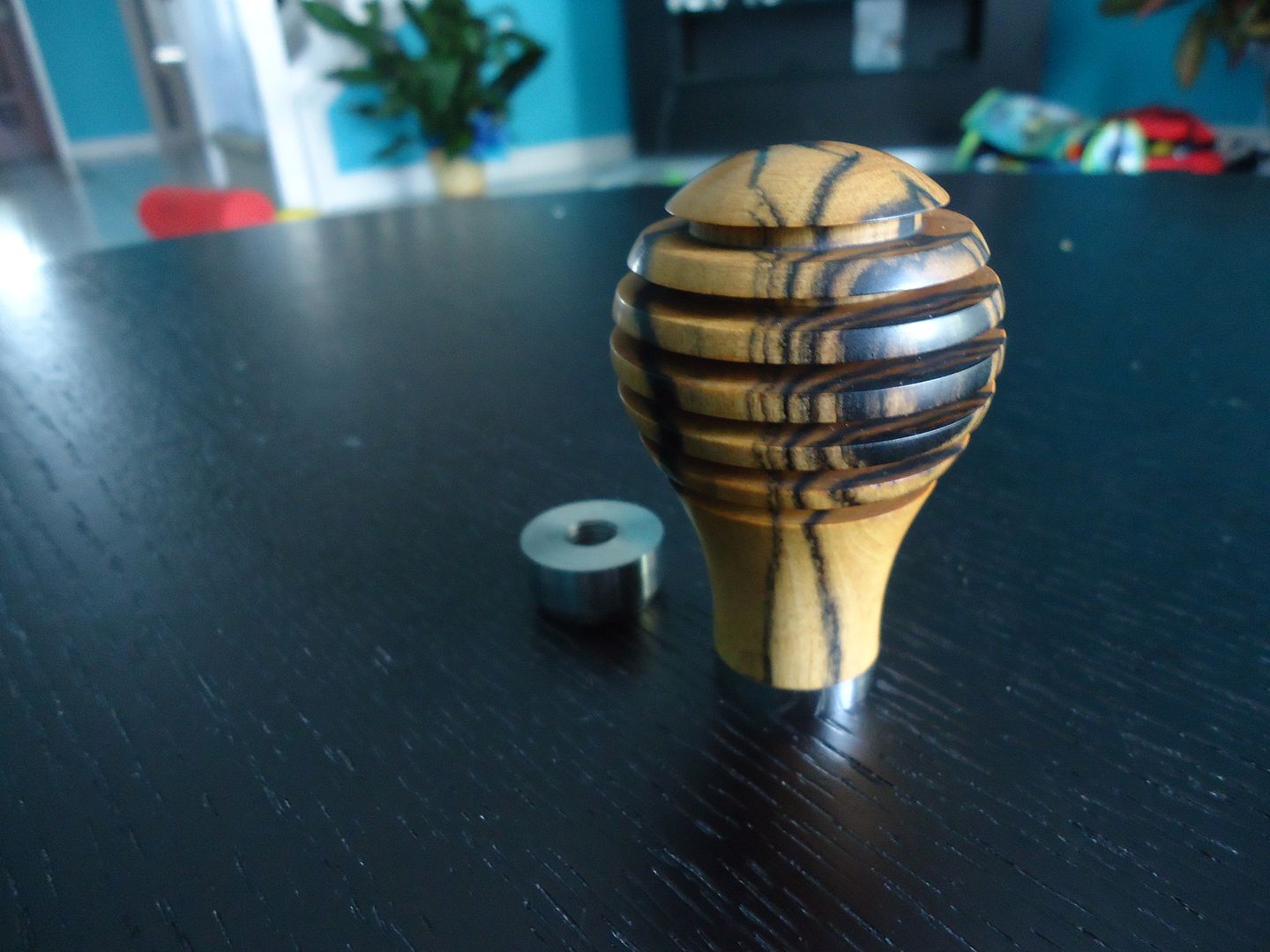 Next three items are small things but make a big statement to me. First up is my new custom Ebony and Ivory wood shifter, made by Andrew Martin. A work of Art this thing is; to me its the little things like this that make a car stand apart and the two pieces Andrew made  did just that in my opinion.
I mean look at the detail,,
Close up… So crazy to think something like this started from a block of wood.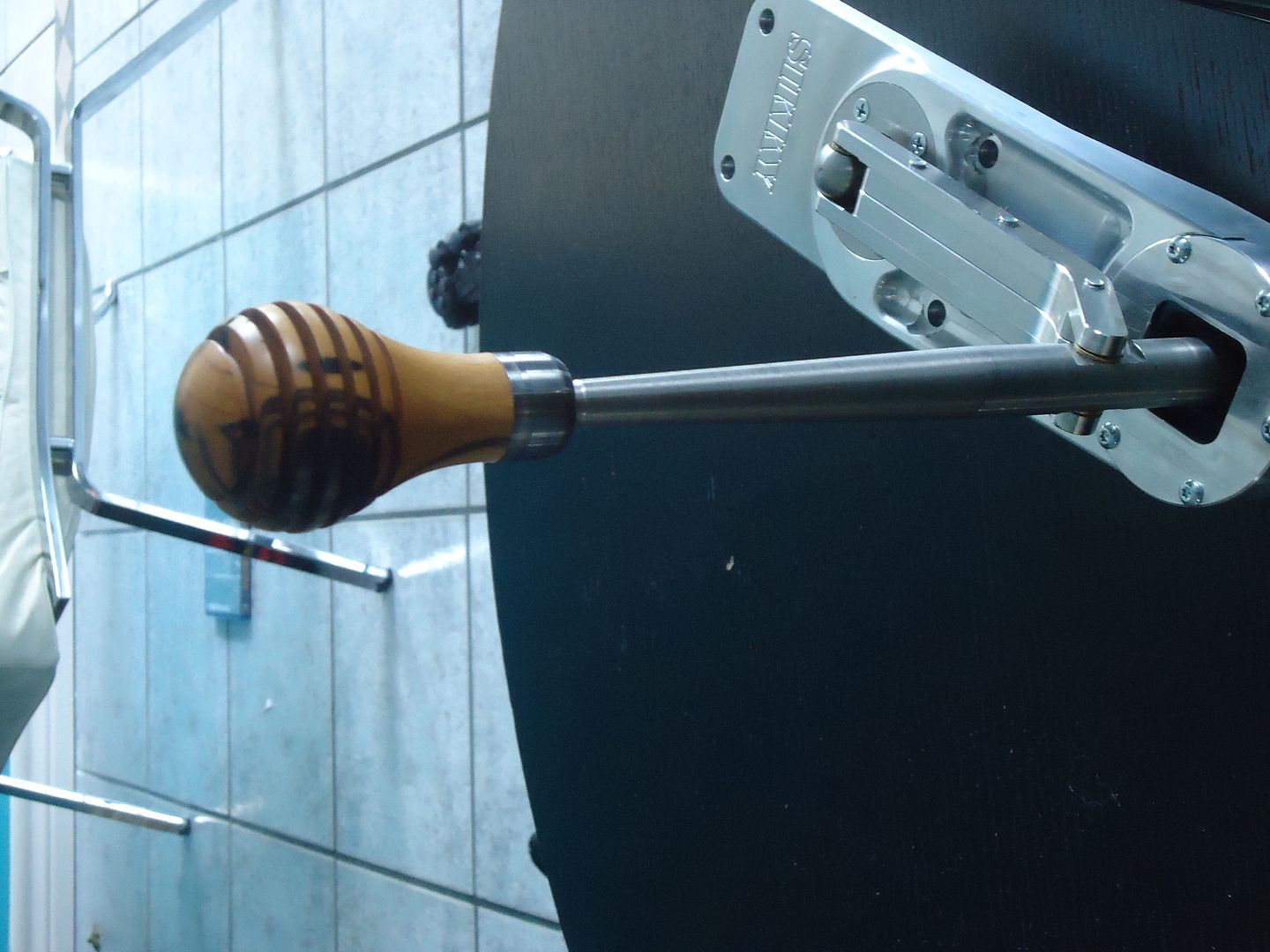 Mounted on the shifter, it just looks like it belongs there.
No words…
Next item Andrew made for me was my Hydro grip. I wanted it to match my shifter so Ebony and Ivory wood was selected again.
And yet again Andrew out did his self with this damn thing…
I mean seriously look at this thing…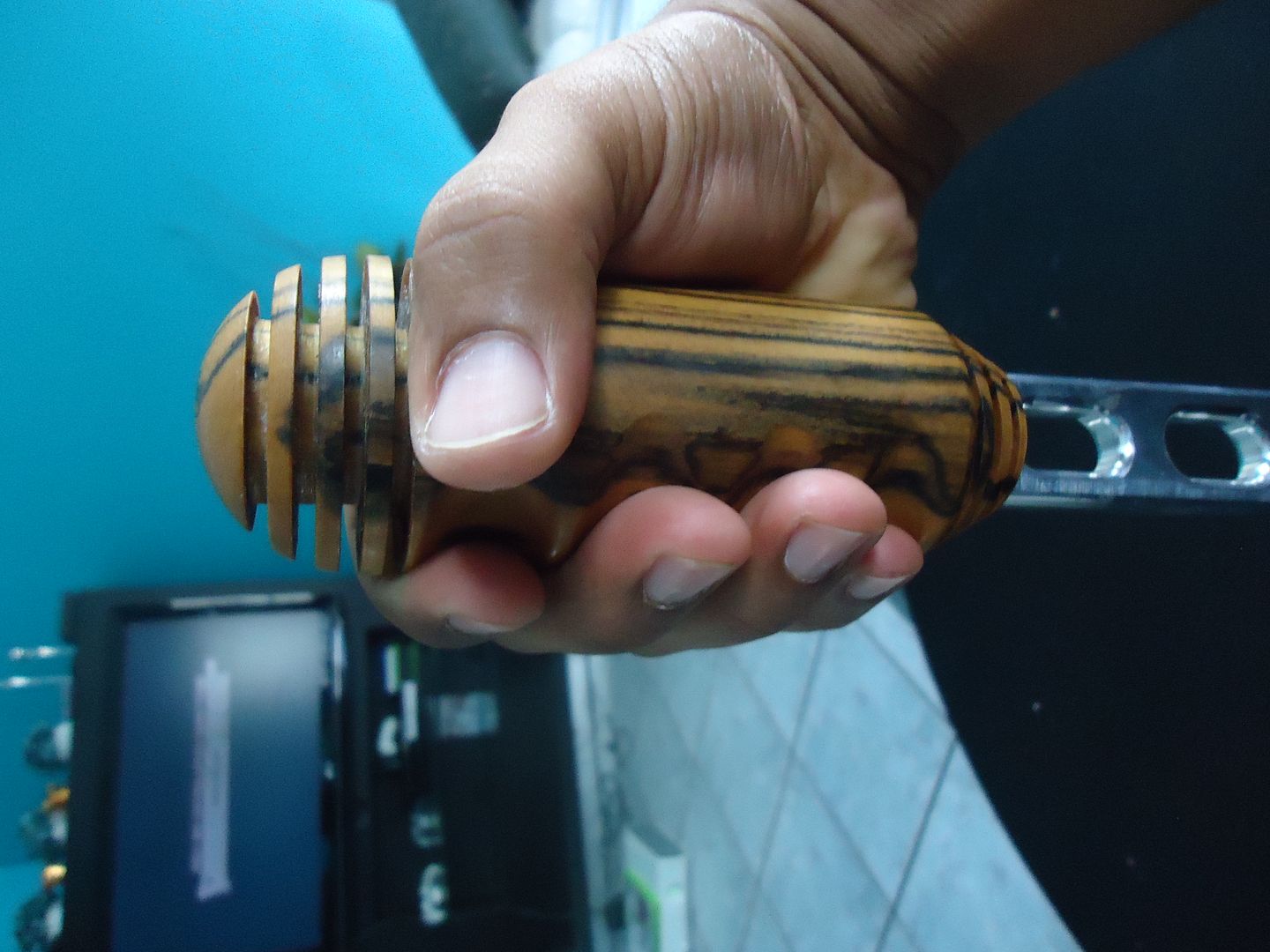 Here is a good pic to show you how big it really is. From pics it looks too big to grab but it fits my hands perfectly (that is what she said)… I know someone was thinking it….lol
Top view
Side by side view of both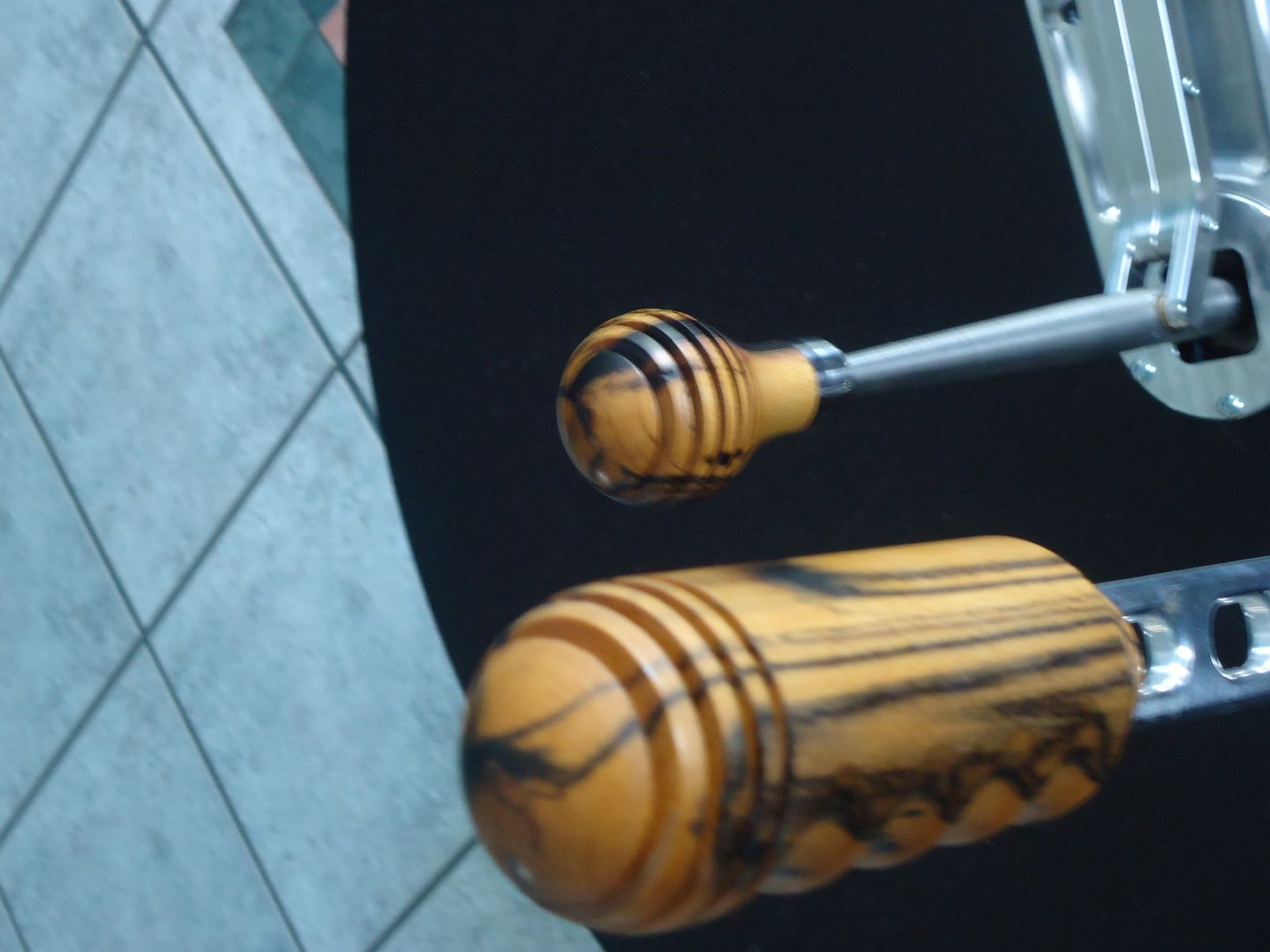 Perfect match up….
So I have been working on finishing up my interior.. Only things left are my CF door panels (Which I have to cut) and make some floor boards so my feet can set level and then I can place my floor mates were they need to be.
Again its the little things that make the car…
And the work that Toby did on my dash just complemented and completed the look I was trying to go for. Clean and simple.
Toby in my opinion makes nothing but art when it comes to his dash work. He takes on each piece like its his own and I for one can really appreciate that.
So thanks Toby for making something I will use day end and day out..
So before I can call the interior done, I have to do a few things like: re-wrap my shifter cover and fix the whole that I have there now. Which was used for my old CNC hydro. And also clean up all the edges I cut to fit the dash or and center console
Also I mocked up my Stack gauge just to give me a idea how it will look. I will be making a bracket to raise it up some but you get the idea from this pic.
So that is it for the update today. Hopefully I can do another update soon and something that is more exciting.
But I would like to thank Andrew and Toby for making some awesome pieces for my build. I think those little items will set the car apart.
If you guys are interested in any wood work please hit up Andrew Martin on FaceBook: https://www.facebook.com/profile.php?id=100000565154357&ref=ts&fref=ts and check out his website: Drew Builds Stuff
And if you are interested in getting any work done by Toby, check out his website: Broadfield's Blog
-Royal_T-